Published March 21, 2014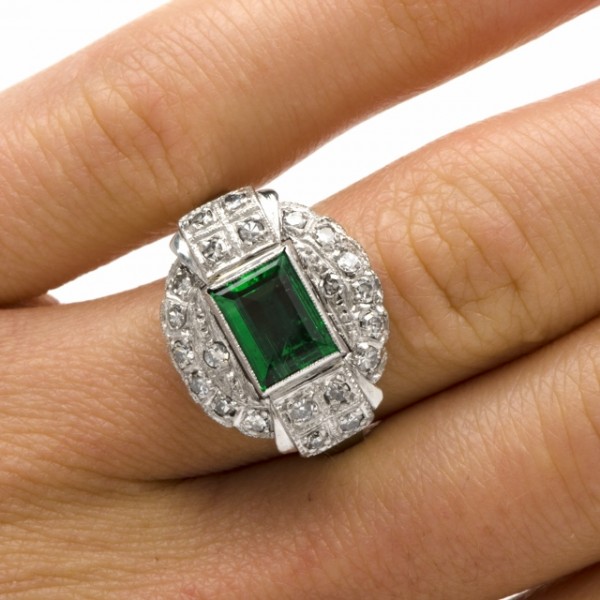 To become an antique jewelry collector can be a gratifying occupation for jewelry admirers, and would be even more fascinating when it includes include collecting pieces of jewelry originating from different periods, A question asked frequently by prospective collectors is whether antique jewelry and vintage jewelry refer to the same era and style of jewelry.
While the two terms are often used with little distinction amongst amateurs and those completely unfamiliar with the history of jewelry, antique and vintage jewelry are indeed to be distinguished from each other. The term estate jewelry is also one which is to be differentiated from the first two categories.
Some buyers and dealers use undefined and vague rules to classify antique jewelry such as jewelry which is at least 100 years old.. In reality, however, the domain of antique jewelry is a more comprehensive one and in historic terms covers more than 100 years.
Until the gold discoveries of the 1840's, in the United States and the first appearance of Cape diamonds on the market in 1870's, almost all precious antique jewelry had to be remounted due to limited supply. Georgian jewelry brought with it romanticism and symbolism and elaborate floral motif parures blossomed, set with rose-cut and Old Mine-cut diamonds.
Early Victorian jewelry favored miniatures and shell cameos often in the form of snakes . Mid-Victorian jewelry witnessed the peak of eccentricity in France and England together with changes in fashion, and Late-Victorian jewelry reflected the impact of the industrial revolution and became affordable to the masses.
Art Nouveau jewelry illustrated a break with tradition, restoring the desire for spontaneity of inspiration. Art Nouveau enamellers rescued the skilled use of plique-a-jour and other artistic types of jewelry enameling.
The Arts & Crafts Movement in England was a strong reaction to mass-produced jewelry.
Edwardian Jewelry was characterized by lightness and delicacy incorporating garlands, and Art Deco jewelry was a reaction to the end of the war, as women favored a more emancipated look, and jewelry assumed more simple, geometrical and linear lines.
While the above eras, are all considered part of 'antique jewelry' time span, obviously much longer than 100 years on which the vague definition of antique jewelry is based, vintage jewelry, in the opinion of numerous connoisseurs and historians, denotes the era en compassing the 1930's and the 1940's , a period in which the outbreak of war slowed down the jewelry production. The main difference between these decades was the opulence of gemstones and the richness of surfaces which were normally pave or invisibly-set with rubies, diamonds, sapphires were substituted by smaller semi-precious stones and large metallic surfaces.
Estate jewelry usually refers to pieces which were previously owned and became part of a person's estate. The high quality of materials, the fine craftsmanship and the history behind such pieces are the reasons for their popularity. Estate jewelry can belong to any era and be of any age
age.