Published June 7, 2021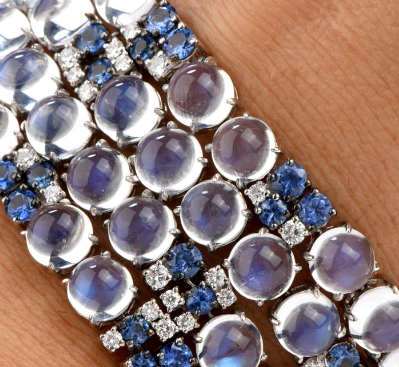 Moonstone – the birthstone for June
Mysterious. Celestial. Beautiful.
Moonstone is a pearly white, semi-precious stone that is part of the feldspar family of gemstones. It comes mostly in a milky-bluish color but is also found in shades of peach, grey, pink, green or yellow – the latter two colors being less popular. As you move it, the stone will exhibit a silvery glow which is called chatoyancy. 'Rainbow moonstone' has a blue sheen and is considered the most valuable color, whilst a 'star moonstone' reflects a cross on its surface called 'asterism'.
In general, the more transparent and colorless the stone is – and the bluer its adularescence (meaning the luster or glow originating from below the surface of the gemstone) – the higher its value will be.
History and Symbolism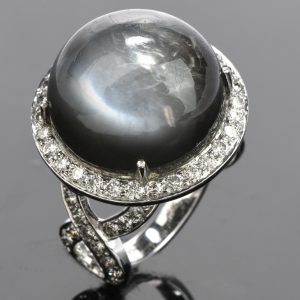 Moonstone has long been associated with the moon, of course – and it is said to bring its wearer a soothing, peaceful lunar tranquility. However, it also has a long history of use as a talisman for fertility, love, protection, and sleep. The Ancient Greeks and Romans believed that moonstone derived from solidified rays from the moon, and they worshipped it along with their respective moon goddesses.
In Eastern cultures, the moonstone was associated with good luck, with its ever-moving adularescence symbolizing a powerful, good spirit within. Moonstone has been revered in India for centuries and is considered sacred. In fact, Indian merchants could not display a moonstone for sale unless it was placed on a yellow cloth, as yellow is a sacred color. It is still given as a traditional wedding gift and is thought to bring luck in love to newlyweds.
"The Moonstone" was a hugely popular, epistolary detective novel written by Wilkie Collins in 1868. It is still popular today -and modern dramatizations can still be seen on Amazon Prime and BritBox if you are a fan of British literature.
More recently, moonstone was frequently used in the Art Deco and Art Nouveau periods by jewelers such as Rene Lalique. We have several fine examples of moonstone in our collection.
Sources
The finest moonstones are found in Sri Lanka and Southern India, but they are also mined in Australia, Mexico, Brazil and the US. The rainbow variety of moonstone, which is the most valuable, comes from India and Madagascar.
June Birthstone Gifts from Dover
Moonstone is the birthstone for the month of June, and it is also the 3rd Anniversary gemstone for married couples. It is a very popular choice for jewelry of all kinds and is available at reasonable price points. Moonstone ranks between 6 and 6.5 on the Mohs Hardness Scale, so it needs to be worn with a little more care than a diamond, for example, so as not to damage it.
These are a pair of unusual, estate moonstone cabochon diamond stud earrings, in a pearl grey/blue color. The two moonstones weigh approximately 48.85 carats, and they are surrounded by over 100 round cut natural diamonds weighing approximately .90 carats.
They make a beautiful, affordable gift for someone special celebrating a June birthday.
If you want to make your gift even more magical and special – here is a matching cocktail ring crafted in 18K white gold with an infinity motif shank. The ring features one round cabochon moonstone surrounded by a halo of diamonds.
And now for something extra special.
The round-faceted diamonds weigh cumulatively 8.76 carats and are graded G-H color and VS clarity. The necklace also features approximately 30 round, rectangular, and oval-faceted genuine natural blue sapphires weighing 13.68 carats.
There are 95 round, marquise, and oval rainbow moonstone cabochons in different shades of shimmering blue color, weighing a cumulative 75.00 carats. The three types of gemstones are set alternately throughout the length of the necklace.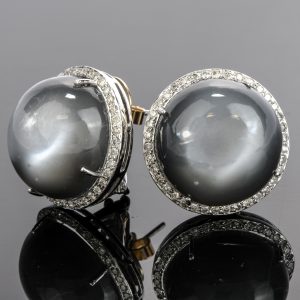 Moonstone is an enchanting, ever-changing, luminescent gemstone.
It has depth of symbolism and a long history behind it. Moonstone works beautifully with other gemstones – or on its own as the focus of attention.
For that special someone with a birthday in June – or to celebrate your 3rd wedding anniversary – moonstone will always be the perfect choice.