Published September 27, 2023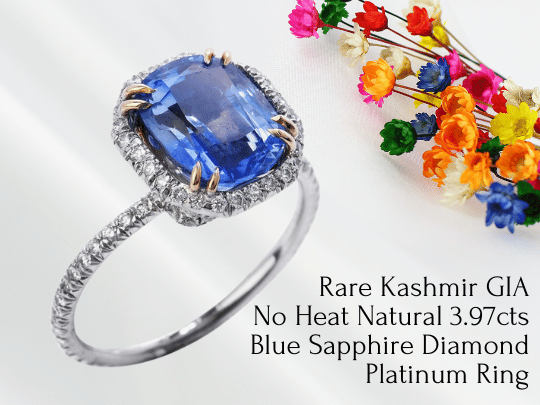 Were you or a loved one born in September?
If so, you have a few birthstones to choose from.
Sapphire

Jacinth (Hyacinth)

Chrysoprase

Lapis Lazuli

Jasper
As some of these are not always readily available, the widely accepted modern birthstone for September is the sapphire.
Sapphire September birthstone color
Sapphire is generally known as a glorious blue gemstone, although it comes in a variety of other colors including black, yellow, orange, grey, pink, purple, orange, brown, and even colorless. One of the most popular and timeless tints of the gem is velvety blue, also called 'bleu du roi' or royal blue. The rarest sapphire in nature and the most expensive non-blue sapphire is called padparadscha. It is an exquisite shade of orange/pink.
Sapphire symbolism and properties and history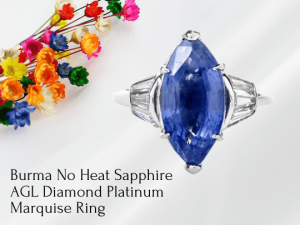 The September birthstone has traditionally symbolized sincerity, truth, wisdom, faithfulness and nobility. For countless centuries, sapphire has adorned royalty and the robes of the clergy. The elite of ancient Greece and Rome believed that blue sapphires protected their owners from harm and envy, and clerics of the Middle Ages wore sapphires because they symbolized Heaven. Ancient Persians believed the earth actually rested on a giant sapphire, which made the sky blue.
Source: Where are sapphires mined?
The three most prominent sources for sapphire are Kashmir, Myanmar (formerly Burma) and Sri Lanka. Sapphires have also been found in Thailand, Australia, Cambodia, Madagascar and Montana in the U.S.
Durable for Everyday Wear and September birthstone jewelry trends
Sapphire is a gemstone variety of a mineral called corundum, as are emerald and ruby. On the Mohs Hardness Scale, it ranks a 9, which makes it just slightly less durable and hard than a diamond. This means that sapphires are resistant to wear and tear and can be worn every day – and that's good news if you are looking for a  September birthstone gift!
The best solution for cleaning sapphire gemstones is a simple mixture of mild dish soap and warm water. Here's how to do it: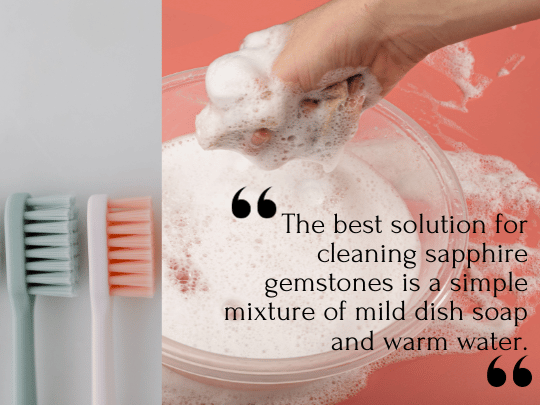 Fill a bowl with warm water.
Add a few drops of mild dish soap (without any harsh chemicals or abrasives) to the water.
Stir the solution gently to mix it.
Place your sapphire jewelry in the soapy water.
Let it soak for about 20-30 minutes to loosen any dirt or grime.
Use a soft, non-abrasive brush (like a soft toothbrush) to gently scrub the sapphire and remove any remaining dirt.
Rinse the jewelry thoroughly under running water to remove any soap residue.
Pat the jewelry dry with a clean, soft cloth.
Avoid using harsh chemicals, ultrasonic cleaners, or steam cleaners on sapphires, as they can potentially damage the stone or any associated treatments. This gentle soap and water method is usually safe and effective for cleaning sapphire gemstones.
Famous Sapphires
The Rockefeller Sapphire, a 62.02-carat rectangular step-cut stone that was unearthed in Myanmar (Burma) and acquired in 1934 by financier and philanthropist John D. Rockefeller, Jr. (1874–1960) from an Indian maharaja. It was re-cut and remounted over the years. The sapphire was first set as a brooch and later as a ring featuring two cut-cornered triangular diamond side stones.
The Black Star of Queensland is a huge 733-carat sapphire found in the mid-20th century in Australia. It served as a doorstopper for 8 years until an American jeweler visited the prospector's house and spotted it. It is worth about $100 million.
The 104-carat Stuart Sapphire was owned by various English royals and is currently on display in the Tower of London. It was on the Imperial State Crown of Queen Victoria and was also used by Queen Elizabeth II.
The Logan Sapphire weighing 429 carats is the second largest blue sapphire known. It was named after Polly Logan who donated it to the Smithsonian.
Perhaps the best-known sapphire in recent years is the 12-carat blue sapphire surrounded by diamonds in the engagement ring first worn by Princess Diana and then given by her son to Kate Middleton, now Duchess of Cambridge.
Current Trends and Unique September Birthstone Gifts
Pear-shaped.
Pear-shaped gemstones are everywhere. This is a chic natural, multi-colored sapphire and diamond-yellow gold ring from Bvlgari.
Sapphire cluster rings, such as the one worn by Princess Diana and Kate Middleton, are still one of the most popular styles around.  A cluster of white diamonds surrounding a sapphire brings out its deep, saturated blue color.
Romantic.
Send a message of love to your favorite September birthday girl with this gorgeous diamond and sapphire dome heart pendant. Romantic, heart-shaped jewelry and engagement rings are trending up this year.
Minimalism. Simplicity rules! Sapphires don't necessarily need intricate settings to look amazing. Simple bands with claw settings can show a quality sapphire to its best advantage. This one is a GIA-certified 6.15cts Ceylon no heat natural sapphire and diamond platinum ring.
Natural GIA
sapphire diamond 18K earrings. The perfect gift for a September birthday girl.

The trend towards antique and vintage jewelry shows no sign of stopping.  This is one of the prettiest Art Deco bracelets we've ever carried. It's a diamond and blue sapphire platinum geometric link bracelet weighing 28.90cts.
Art Deco
Own a piece of the Art Deco era. With bold lines, geometric-shaped gemstones, and typical Art Deco styling, this Antique Art Deco Diamond Sapphire Platinum Pin Brooch might well have been worn by a Flapper girl in a 1920s speakeasy.  
2023 is all about personal expression
and the mindful choice of a special September birthstone birthday gift.  Whether she likes minimalist, multi-colored, traditional, romantic or vintage, we have a sapphire piece that will speak to her style and soul.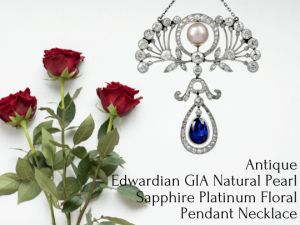 Have More Questions? Just Ask Us! 
Choosing the perfect diamond cut or colored gemstone for your engagement ring is a deeply personal decision. Each option brings its own set of characteristics and charm. Just remember, your choice should always reflect your individual style and preferences.
Remember that the beauty of a diamond or gemstone is not solely defined by its cut or shape; it's also about the meaning and sentiment it holds for you and your loved one. So, explore your options, consider the pros and cons, and select the one that resonates with your heart.
If you have any questions about diamond cuts, or color gemstones, or would just like to know more about our current selection of engagement rings, please contact us today! We're happy to help with all your Sapphire jewelry needs!